Tendo Nabiki Enterprises was founded shortly after the premiere of the pseudo-biographical accounting of the life and times of the Tendo and Saotome families in the smash-hit series Ranma 1/2. While our primary business is investigation, intelligence gathering and corporate investment, TNE has not forgotten its roots.

Tendo Nabiki's career in music, film and television has spanned one entire decade and is continuing to entertain people as we head into the new millennium. Even now, she is considering new offers to continue the portrayal of herself and her life in Nerima, along with an offer from host Jack Perkins to produce her Biography.

And now a word from Tendo Nabiki, herself:
To My Fans,

I want to give a BIG thank you to all of those who recognized my genius right off the bat! Just kidding! Your kind words and continued support mean the world to me, and I'm very grateful for every moment I've had in this industry. In fact, my career would've been limited to tormenting my younger sister Akane and making Kuno Tatewaki's wallet much lighter had it not been for my encounter with a producer from Kitty productions back in 1987. That chance meeting led to conferences between myself and the genius Takahashi Rumiko and soon storyboarding of my family's experiences was underway.
Kitty's choice of using Takahashi-san was perfect. Only she was capable of conveying (and believing) all of the events that occurred within my family, and as the earlier series Urusei Yatsura showed, she has an unequaled talent for mania and comedy. To tell the truth, even though I have actually lived the life she portrays in Ranma 1/2, I had a hard time believing some of it. During the preliminary screening of the first two episodes of Season One, the producers were having trouble believing the content as well. Given the lukewarm reception, she and I went back and cut out some of the more unusual moments from each episode, re-shot some scenes, and got the nod from the producers to go ahead with production on the entire series.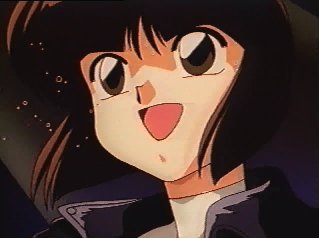 So here we are, almost twelve years later with enough television episodes to fill a large building, plus soundtracks that I thoroughly enjoyed singing on, as well as feature-length movies and OAVs. I hope that there is no end in sight for this wonderful madness, either! Ranma 1/2 is not only a part of my life, it is my life and I will always cherish it. So don't you worry, my beloved fans. Even though I have this company to run now, I will not stop my participation in the series. After all, there's still so much to tell!
All the best!


Tendo Nabiki
November 17, 1999
P.S. - to fanfiction authors - You are a special breed of fan. I enjoy reading your stories quite a bit, and it touches me that you are this devoted to the series. Some of the works are uncannily accurate, and our production staff may be contacting some of you in the near future. I hope you continue your writing efforts and I wish you well, but I do have one request. Kuno Tatewaki and I are nothing more than friends, so I ask that you tone down the romantic angle between Kuno and I. Other than that, I love your work!
This company handled the print version of Ranma 1/2 through their Shonen Sunday Comics division. Later they branched into the production of OAV's.
This is the company that has the rights to the print and video releases of Ranma 1/2 for marketing outside of Japan.
Formerly affiliated with Kitty pictures, this organization was instrumental in starting Ranma 1/2 on its way to success. They now own the extremely successful Pony Canyon video and music distribution conglomerate.
This website represents one of the best English-only websites devoted to cataloging all information concerning the Ranma 1/2 series of Manga and Anime.
This is one of the best collections of images and fandom of CEO Tendo Nabiki that can be found on the web. Just about anything one could want concerning Tendo Nabiki is there. A highly recommended website.
Given the volatility of the web, links change daily. Therefore we are using the Google search engine service to return a fairly current list of websites dealing with the Tendo and Saotome families but having a particular focus on CEO Tendo Nabiki.